WordPress uses categories as a way of giving the site a taxonomical structure. Categories and tags are two ways to sort your content and articles in WordPress. Every post needs to be in at least one category.
After you install and run WordPress, by default, you have the "Uncategorized" category. A lot of users will either rename this category or completely remove it from their website.
If users forget to categorize their posts, WordPress will automatically add the post to the Uncategorized category.
How to Change WordPress Default Category?
You can have 2 different approaches to changing the default category:
1. Set a New WordPress Default Category
Users can delete their categories from WordPress dashboard > Posts > Categories. However, you can't delete the default category from here. To delete the Uncategorized category from your website, first, you need to set another category as your default category.
Follow these steps to change the WordPress default category:
Go to dashboard
Head over to Posts and then Categories
Add a new category that you would like to make your default category
Select Writing from Settings on the left-hand side menu
Set the Default Post Category from "Uncategorized" to the new category you have added
Save your changes and the new category you have added is now set to your default category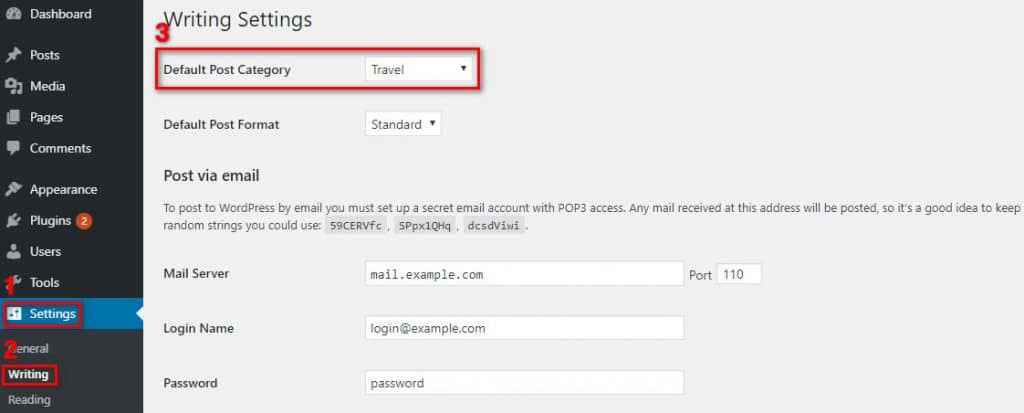 Once you save your changes, WordPress will use the new category as your default category.
As a result, if you forget to choose a category for your posts, WordPress will automatically select the default category. Now you can rename or delete the "Uncategorized" category.
2. Rename the Uncategorized Category
If you don't want to use the method above, you can easily rename the default category.
To edit categories, head over to your dashboard > post > categories and click on "Edit" underneath Uncategorized. Now you can change its name and slug.
If you haven't launched your website and it's not yet indexed, you can easily change the slug.
However, if you have already launched your website, changing slug could cause error 404 and will have a negative effect on your SEO. In cases like this, it's recommended to use the method mentioned above or redirect your old address to a new page.
Conclusion
Changing your WordPress default category to your most-used category is very useful.
But changing your default category URL can cause error 404 for your old visitors and they may exit your website before trying to find the new page. So be careful and pick the way that is most suitable for you.