If you are looking for a way to allow your website visitors to register on your website so you can build a community, then this article is for you. Since WordPress is an open-source CMS, there are a lot of plugins in the WordPress repository that allows you to either add or remove functionality from a WordPress website.
WordPress membership plugins are a great way of increasing your growth and staying connected with your visitors. In this article, we are going to introduce the best WordPress membership plugins in 2021.
Keep in mind, that having a fully functional WordPress website, requires high-quality WordPress hosting services so that you can focus on your website rather than having to worry about your server.
What Are WordPress Membership Plugins?
There are so many WordPress membership plugins that you can either buy or download for free. Some of them are very good for selling subscriptions and others may be good for managing your members as well as a subscription.
Some of these plugins are designed in a way that allows you to slowly release your content to them, and others can completely make your content premium and open to specific users who have paid for the subscription. In addition, the WordPress membership plugin that you are going for must support your preferred payment gateways so that your users can pay the membership fee.
So, without further ado, let's introduce the best WordPress membership plugins in 2021.

MemberPress is considered to be an all-in-one WordPress membership plugin that makes it easy for you to transform your WordPress website into a complete membership and paywall site. With the MemberPress WordPress plugin, you have the ability to create an unlimited amount of memberships and on top of that, you can customize all of them.
Moreover, you have the option to create groups and add your members to them. Also, you have the option to fully control their paths and create specific pricing pages for each of them. Besides, it is very easy to target each group for your email marketing campaigns.
With the MemberPress plugin, you can also create and control discount coupons where you can control its expiration dates and even customize the percentage, or apply it to any products or membership group that you would like. MemberPress is designed in a way to fully handle the payments as long as you have one set up and connected to the plugin, the plugin can automatically take money from your customers. By default, MemberPress supports PayPal, Stripe, and Authorize.
Besides offering a number of unique features, the MemberPress WordPress membership plugin allows you to create advanced login and registration forms for WordPress. Additionally, the plugin integrates with many third-party email marketing services, such as MailChimp and AWeber
OptinMonster is a great WordPress membership plugin for sites that already have members and are looking for a tool to grow their user base without having to actually grow their website's traffic. OptinMonster plugin is designed in a way that will help you increase your email list as well as revenue when it comes down to adding more members to your WordPress website.
OptinMonster WordPress membership plugin is best used to create conversion optimization campaigns that are based around your community. Moreover, OptinMonster comes with more than 1 pre-built campaign. For instance, slide-in boxes, content lockers, exit-intent popups, and many more can help you increase your conversion rate.
The OptinMonster WordPress membership plugin is installed on over 1,000,000 websites and comes with over 50 pre-made templates that are fully responsive and work well on desktop, tablet, and mobile devices without any issues. Also, the plugin is integrated to work with over 30 email services that can be used to increase your email listing.
WooCommerce Memberships is an addon created by the WooCommerce team that enables you to limit some of the content displayed on your website via WooCommerce and sell them using this addon through a subscription plan. By using this add-on, your visitors must sign up on your website before they are able to make a purchase. Also, you can use the registry and give them access to purchase exclusive items.
In addition, you can use the email addresses you have collected on your website and use them for your next email marketing campaign. Moreover, the addon even enables you to gift membership alongside one of your products.
The WooCommerce Memberships is fully integrated with Constant Contact. Besides, it comes with an invite-only members' area that your members can use to stay connected with each other and yourself. Also, you have the chance to give free shipping for members using the plugin.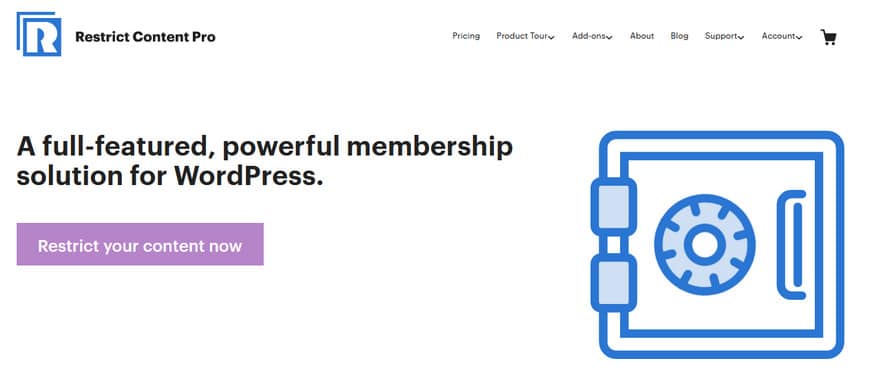 Restrict Content Pro is one of the best WordPress restricts content plugins. The Restrict Content Pro membership plugin was created by the same folks who designed and developed the Easy Digital Downloads WordPress plugin.
Much like other plugins mentioned on our list, the Restrict Content Pro plugin comes with plenty of payment options such as 2Checkout, PayPal, Braintree, Stripe, etc. Most importantly, the plugin can easily handle more than one payment method at once. This can allow your members to purchase a premium membership or content from your website.
In addition, before you purchase this plugin, you have the option to fully test out the plugin on their live website. Restrict Content Pro WordPress membership plugin comes with different membership levels, content dripping, customer dashboard, membership emails, etc. The personal plan of this plugin is $99 a year.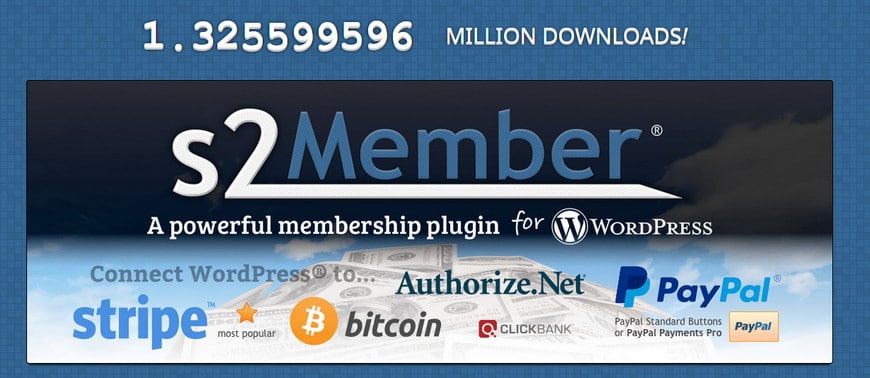 S2Member is a free WordPress membership plugin. However, it is also available in the premium version. The free version of this plugin may be a bit limited for some websites. On the other hand, the pro version of S2Member is considered the most feature-heavy membership plugin on the market.
The features include 1-step registration checkout, user roles, content dripping, unlimited membership levels, PayPal Pro integration, coupon code configurations, multisite, etc.
The plugin has over a million active downloads and the number is changing every second. Aside from PayPal, the S2Member WordPress membership plugin supports, Stripe, Bitcoin, Authorize.net, etc. This allows your website visitors to make purchases on your website with their favorite payment method that they trust.
This plugin is suitable for websites that are looking for a flexible solution to restrict their content or monetize them. The pro version of the S2Memebr plugin starts at $89.
Paid Memberships Pro is yet another extremely powerful membership plugin that is perfect for those website owners who are looking for a plugin that can turn their websites into feature-rich subscription sites. Other than most of the plugins mentioned on our list. The Paid Memberships Pro comes with its own dedicated WordPress theme. As you know, some plugins may conflict with your activated theme and that can cause a lot of issues in the long run. Thus, this is a good feature that the developers of Paid Memberships Pro have thought about.
The Paid Memberships Pro plugin comes with many features that you will need if you are going to create a subscription-based website. For example, you can create unlimited membership levels with flexible payment terms for each level that you have created. Additionally, you can choose a price for each level, come up with a membership term, etc.
Most importantly, the plugin adds a meta box to your posts and pages which allows you to fully restrict them for specific membership levels. The Paid Memberships Pro WordPress plugin is available in both free and premium versions. The premium version starts at $297 a year.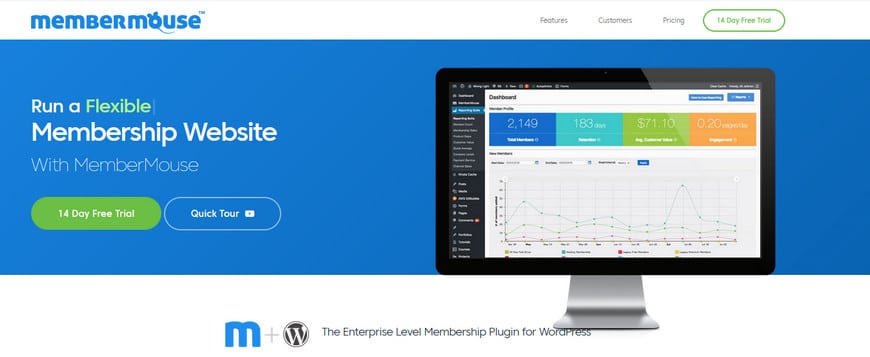 MemberMouse is yet another rich-heavy WordPress membership plugin on our list. Just like any other membership plugins in the WordPress repository. The MemberMouse allows you to create both membership levels and bundles. Which can be used to restrict both pages and posts for specific user roles. For example, you can use this feature to sell a one-time special offer to people who are premium members on your website.
Moreover, MemberMouse comes with a widget that enables your subscribers to see what content they can access and what content is restricted to them. The restricted content can be done through custom post types or categories. The MemberMouse membership plugin is available in both free and pro versions. The pro version starts at $33 a month. However, the plugin isn't GPL-friendly. Thus, you can't tweak its code to match your needs unlike other plugins mentioned on this list.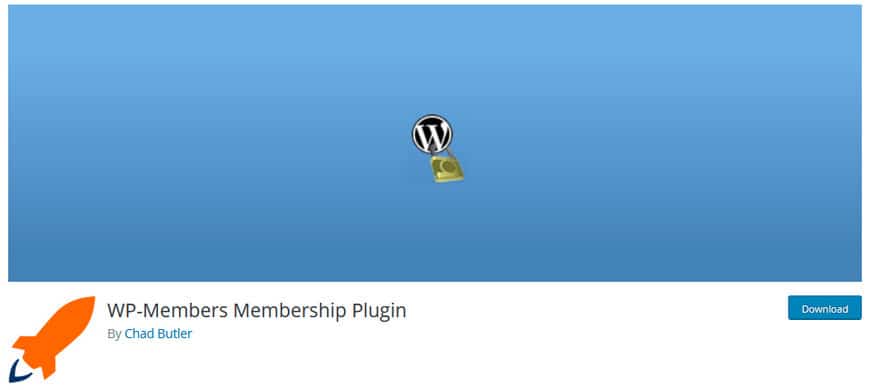 WP-Members is yet another freemium WordPress membership plugin on our list. To try out you can make use of the free version of the plugin. However, if you are running a professional website, you may have to unlock its pro version by purchasing the premium version. Unlike other membership plugins mentioned on our list, WP-Members restricts all of your content. Then, you have the option to unlock the content you would like everyone to see and sell the ones you want as premium content.
Keep in mind, that you can change this setting. But by default, that's how the plugin is configured when you activate it. By using the WP-Members plugin, you can easily add custom registration and login forms for your members. In addition, you can use the tools provided by the plugin to add customized URLs for your registration page. This is a perfect opportunity to use for ads.
As mentioned above, this is a freemium plugin. Thus, the pro version costs $59 a year.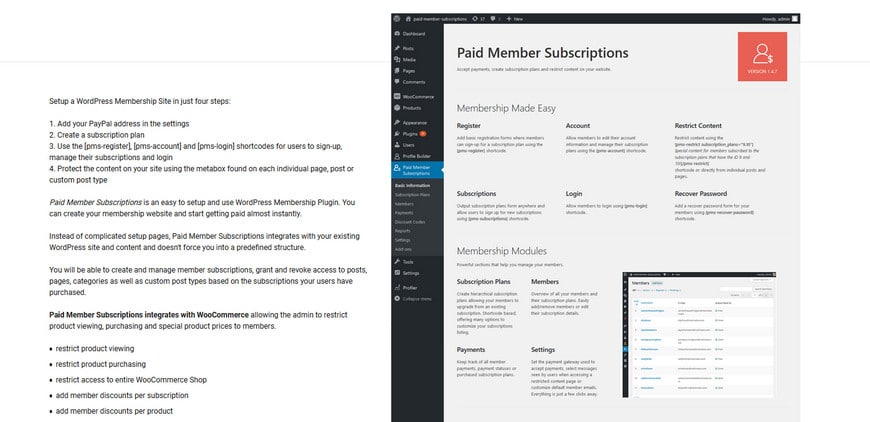 Paid Member Subscriptions might be a lightweight plugin, but it is as powerful as any other WordPress membership plugins that we have mentioned on our list. The plugin is also available in both free and premium versions. However, the free version offers a good amount of functionality which is enough for most websites that are looking for a great entry-level membership plugin.
The free features that come with the Paid Member Subscriptions plugin are multiple membership levels, charge money for different membership levels via PayPal, create front-end member registration login, etc.
Keep in mind, if you are looking for more features you can always upgrade it to the premium version. For example, you get the option to drip out content over time or create global content restriction, a lot more usual payment methods (Stripe and PayPal Express), and lastly, you get a lot of useful integrations.
The paid version starts at $69 a year and goes up to $149 for all features that Paid Member Subscriptions has to offer.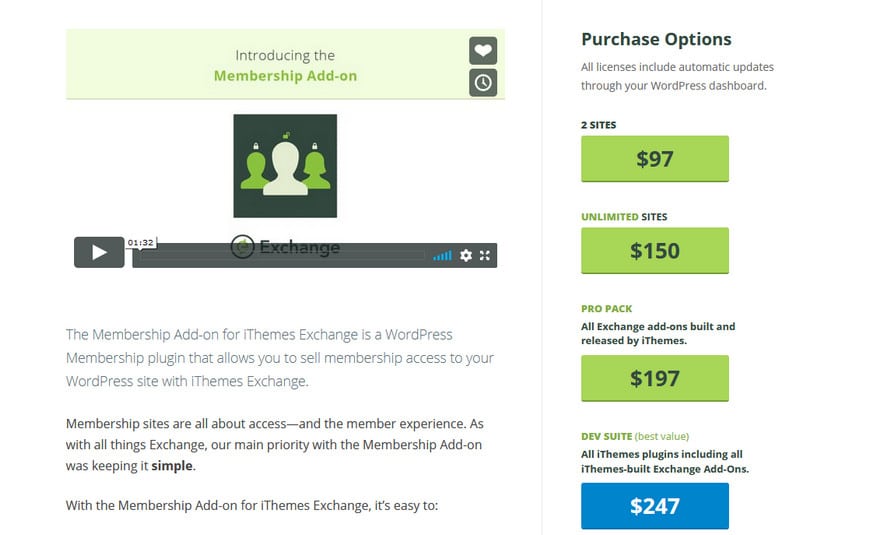 The last WordPress membership plugin on our list is the iThemes Exchange Membership. Unlike other WordPress membership plugins mentioned above, iThemes Exchange Membership isn't a standalone plugin. Instead, it is an addon to the popular iThemes Exchange eCommerce plugin.
The iThemes Exchange Membership enables you to create unlimited membership levels (with both free and premium levels). As for content restrictions, by using this addon, you can restrict posts, pages, tags, and even categories of your WordPress website. Additionally, just like other plugins mentioned on our list, you can easily use its content dripping feature and different payment methods.
The price for this addon starts at $97 which comes with recurring payments addon for free. Keep in mind, this is an addon for the iThemes Exchange eCommerce plugin. Thus, you will need to have that plugin in order to use iThemes Exchange Membership.
Conclusion
In this article, we introduced the best WordPress membership plugins in the WordPress repository. Some of the plugins mentioned on our list are premium from the start while others are available in both free and premium versions.
WordPress membership plugins are a great way to increase your website's growth both in traffic and business aspect. In this list, we tried to introduce both free and premium plugins so you can choose which one works best for your WordPress site.