What is WordPress hosting? well, it short, it's a place where you can host your website.
When you decide to create a website and make it public to everyone on the internet, the first thing that comes to your mind is probably which hosting service you should go for. With a simple Google search, you can find a lot of hosting services. However, it is not as easy as it sounds there are literally hundreds of service providers to choose from and they come with different paid plans which may be confusing and it may not be wise to launch a brand new website with a premium hosting service.
You may ask yourself if I don't pay for paid plans then how can I get my website up on the internet? Well, what if we tell you that you can still start your website and publish it at zero cost? Yes, there are free WordPress hosting services that come with no time limits. In this article, we will introduce the best free WordPress hosting services in 2020 that you can use to launch a website with no time limit.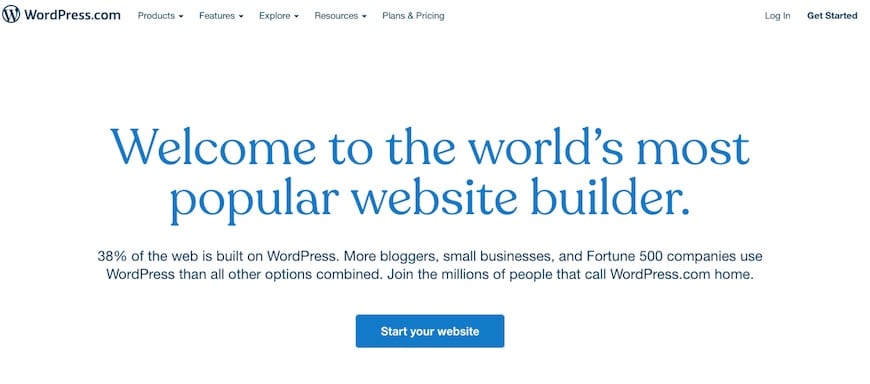 The very first free WordPress hosting service on our list is from the folks at WordPress.com. Unlike the WordPress.org you know of, you can actually host your website with WordPress.com. In our previous article, we talked about the difference between WordPress.com and WordPress.org. With this service, there is no need to purchase any software or any services to have your website hosted. Therefore, it is the perfect place for someone who likes writing.
It is very easy to get started with WordPress.com. However, you may have some limitations when it comes to controlling your website. For example, you may not be able to change the theme to your customized and desired one from the start. But if you upgrade your account you may be able to do so. However, it offers everything you need to start a free WordPress website.
The main features of WordPress.com are the fact that it is SEO friendly, beginner-friendly, and most importantly, the themes that you can choose from are 100% responsive and mobile-friendly.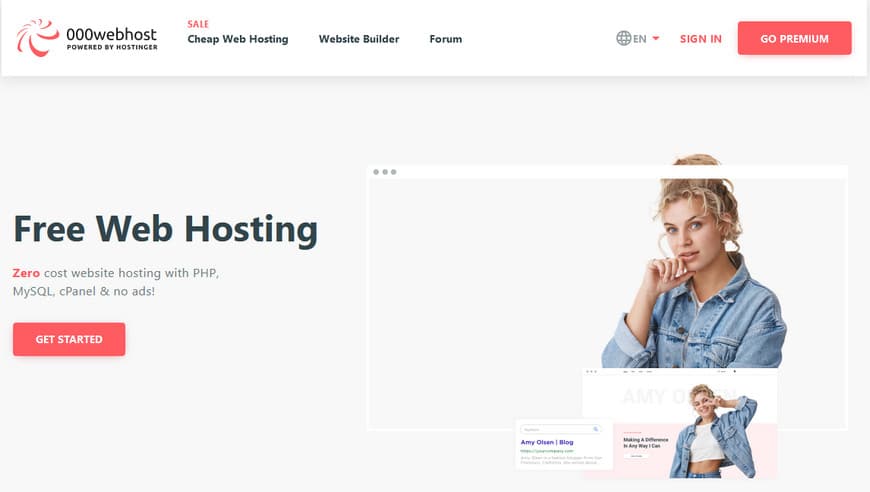 Perhaps one of the best free WordPress hosting services in 2020 is 000Webhost. It currently has millions of active users and that alone is the reason why it landed the second spot on our list without any hesitations. Much like WordPress.com, there is no need to pay any amount to launch a website. However, unlike WordPress.com there Are no limitations that restrict you from freely customize and design your website.
The 000Webhost platform is mainly used by the starter or medium-level projects. Thanks to its friendly interface, it takes minutes to launch a WordPress website. Most importantly, 000Webhost guarantees 99% uptime. Which may be the reason why millions of people are using the services they have to offer.
Perhaps the key features of 000Webhost are its friendly and responsive customer support, auto-installer, and one-click installation process.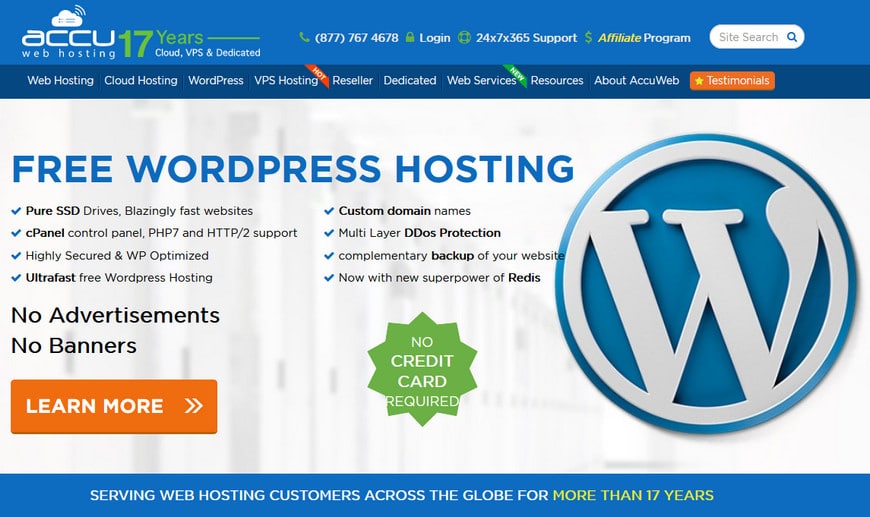 AccuWeb Hosting is another big name on our list of best free WordPress hosting services of 2020. Most free hosting companies force your website to display ads or banners and that's how they make their money. AccuWeb Hosting won't force your website to display such promotional banners or ads. In addition, the servers that come with AccuWeb Hosting are probably ten times faster than your regular WordPress optimized servers that you can find on the internet.
As soon as you create a website with this service you get a lifetime guarantee of free hosting and 2 GB SSD storage with 30 GB monthly bandwidth. Which is perfect for over 5000 visitors per month. As mentioned, AccuWeb Hosting provides you with fast servers. Thus, the WordPress website you create with them is going to be extremely fast. In addition, the websites are SEO optimized and fully integrated with Google Apps.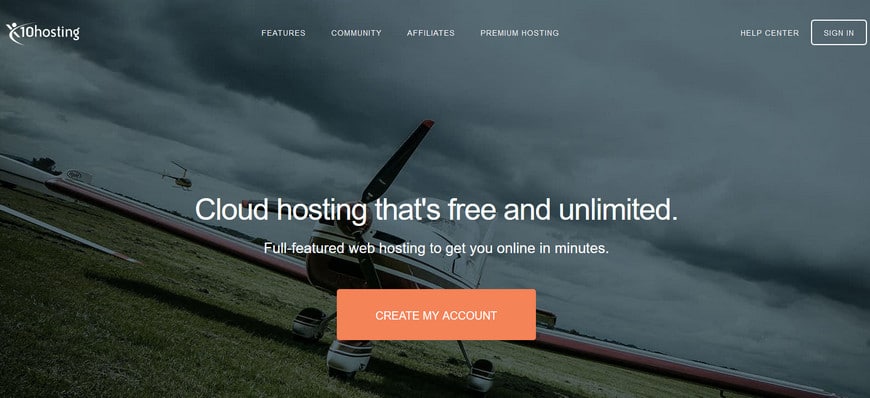 As you can probably tell by the name of this free WordPress hosting service, x10hosting is ten times faster than other WordPress hosting companies out there. In addition, x10hosting offers 100% pure cloud SSD servers to ensure the safety and speed of your WordPress website.
Moreover, you have full control over the account you create with them. Plus, the account comes with the latest versions of MySQL, cPanel, and PHP which are the main ingredients of having a successful WordPress website. Besides, x10hosting is user-friendly. Thus, you can simply install WordPress with one simple click. More importantly, this free WordPress hosting service comes with an easy-to-use website builder and daily upgrades.
Freehostia is a free WordPress hosting that uses load-balanced clusters to host your WordPress website. If you are completely new and don't know how to install WordPress on your server. We recommend going online with Freehostia. This free WordPress hosting provider comes with a 1-click installer that helps you install WordPress and even other content management systems such as Joomla, Drupal, etc.
Freehostia offers 99.9% uptime and even comes with free website themes, SSD storage, 6GB monthly traffic, and 3 email accounts with 1 MySQL WordPress database. Additionally, the servers that Freehostia offers give you access to cPanel and URL redirector that can be very important for some users who are looking for a way to increase their knowledge when in it comes down to WordPress so they can upgrade their accounts to premium which Freehostia offers. This web hosting service easily gives you an option to upgrade your account to premium.

If the company of your webserver is important to you. Then, we recommend Google Cloud Hosting. Although this service isn't technically free-free it offers a one-year free trial that you can take advantage of its unlimited storage for one website.
Whenever the name Google is heard, you may think that their services are solely built for large businesses. However, that may be true to some extent but anyone can use them. All you need to register with Google Cloud Hosting is a Google account.
The trial that Google gives you to use this service lasts for a year or until you have used the $300 credit it comes with once this time or the credit is finished you will have to pay for the resources you are using.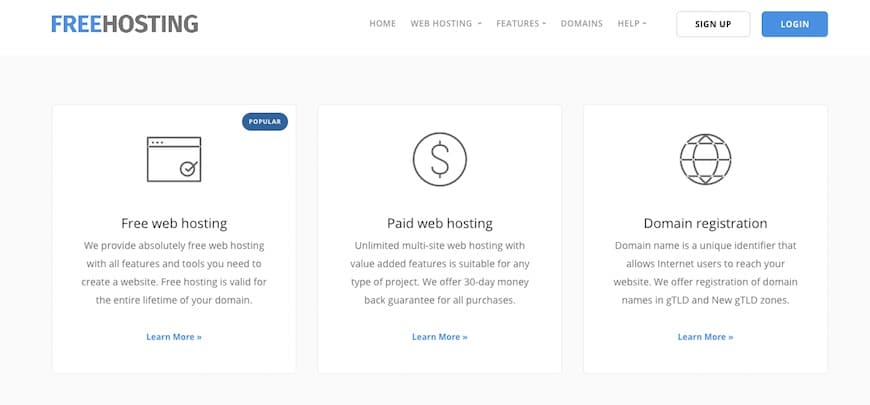 FreeHosting offers both free and premium WordPress hosting. With the initial free plan, you can host a website that comes with 10 GB of disk space, unlimited bandwidth as well as a ticketing support system that you can use to ask your questions and solve your hosting issues.
As soon as you register with them, you can either register a domain name with FreeHosting or you can move your own domain name from any domain registrar.
Additionally, if you would like to add an extra mailbox or even SSL certificate you can do so by simply paying a small fee. This allows you to use their free WordPress hosting services and add any premium services that you need.
ByetHost is an iFastNet company that offers a variety of premium web hosting services. However, ByetHost is one of their free WordPress hosting companies that allow its users to host a website with 5 GB disk space, unlimited bandwidth, one MySQL WordPress database as well as a ticketing system that is feasible to solve any web hosting problems you may have.
Out of the free WordPress hosting services mentioned on this list, it is safe to say that ByetHost has the best customer support you can get for free hosting. In addition, you can access its many video tutorials and documents to troubleshoot your website on your own.
ByetHost has its own control panel named VistaPanel which can be used to see statistics such as disk space, bandwidth usage, and many more necessary and cool features.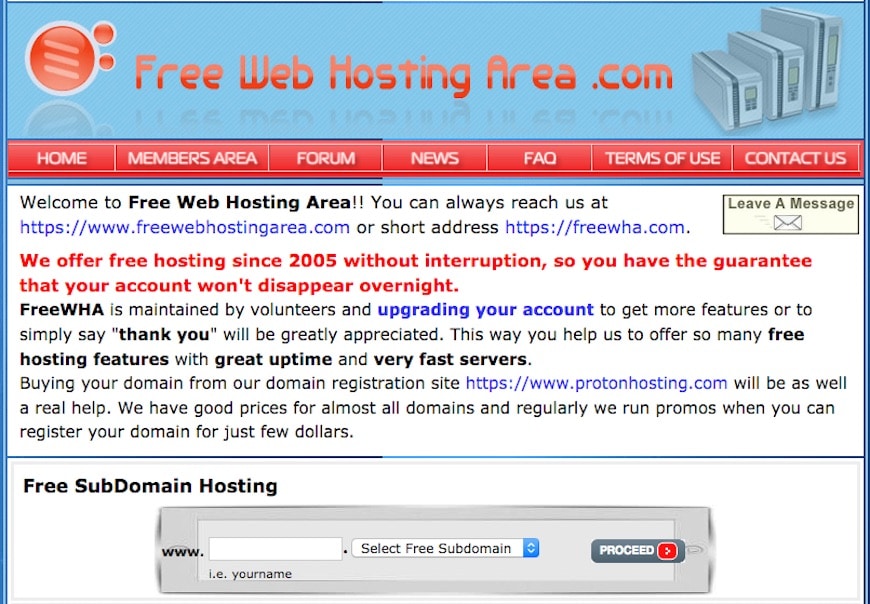 FreeWebHostingArea works differently compared to other free WordPress hosting services mentioned on this list. FreeWebHostingArea is a volunteer-maintained based hosting provider that offers 1.5 GB disk space, MySQL database, and unlimited bandwidth.
To use FreeWebHostingArea your website needs to have at least one visitor per month otherwise it will be deleted due to inactivity even if you are working on the website and developing it. Moreover, this WordPress hosting service prohibits APIs, password-protected websites as well as private projects.
If you are just starting out a website with FreeWebHostingArea it is recommended that you fully backup your WordPress website. Although they automatically may backup your website it's wise to get a backup on your own in case your website gets deleted due to inactivity. Much like some free WordPress hosting services, you can either purchase a domain or transfer your own to FreeWebHostingArea.
SKT Hosting is considered to be one of the major free WordPress hosting providers. SKT Hosting comes with two unique free hosting plans. One of which is the basic free WordPress hosting plan and the major key player is their free cloud hosting services.
Installing WordPress with them is really easy and doesn't require any knowledge at all. In addition, the servers are highly optimized for speed. Thus, your website will have a great loading time. Besides, it comes with plenty of bandwidth and storage space. Most importantly, if you are planning to scale up your website, you can easily do so by upgrading your account to premium.
Conclusion
In this article, we introduced some of the greatest free WordPress hosting services that you can use to launch your website without having to pay anything.
You may ask yourself what is WordPress hosting? Well, as we briefly mentioned at the beginning of this article, every website need a space to be hosted on. Otherwise, you won't be able to show your website to people on the internet.