Customer interaction is always the key to running a successful business. This interaction leads to increased satisfaction of your customers. WooCommerce-based stores are growing daily. If you own a WooCommerce online store, interacting with your customers through emails is the first thing on your mind. Plain emails are boring to the customer's eyes. In this article, we will introduce 15 plugins to customize WooCommerce email.
Appearance is and always has been the key to marketing. As a business, it's your responsibility to make your identity stronger.
Customizing WooCommerce email is one of the many ways to create this appeal. If you are looking for plugins to customize your WooCommerce emails, we recommend reading this article.
Why Do We Have to Customize WooCommerce Email?
The main reason behind this customization is nothing but building your brand. Generally, when visitors purchase an item or a service, they receive an email from the website or company they made their purchase.
This could be a simple email to thank the customer. Although it's more than just a thank you email.
This email represents your brand. Emails play a crucial role in building your brand and your audience may remember your logo or your company name from the emails you have sent to them. Thus, customizing WooCommerce email is very important.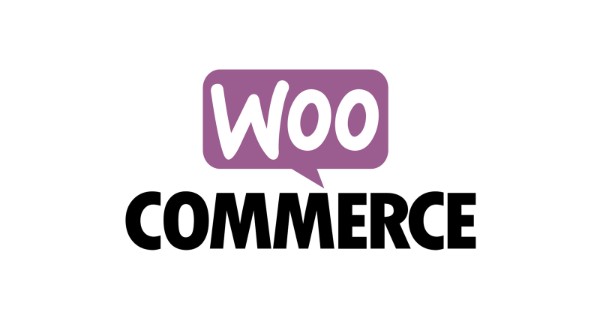 Best Plugins to Customize WooCommerce Email
The benefits of customizing WooCommerce email can be summarized as below:
Customizing your WooCommerce emails greatly impacts the visual aspect and as a result, more users are attracted to your website.
You can customize your emails based on your business's needs. You can add or remove a few items.
WooCommerce emails are the bridge between you and your customers.
Another benefit of customizing WooCommerce email is that you can design questions and answer emails.
Other than the benefits mentioned above, customizing your emails is a sign of professionalism. As a result, you build the trust needed for your customers to purchase more services or products.
Now that you are aware of the benefits of customizing WooCommerce email, it's time to introduce 15 popular plugins to customize WooCommerce email.
The first plugin is Metorik. Metorik is a very useful email automation tool. This tool isn't specifically designed for WooCommerce.
However, it offers features that you hardly can find in other plugins. This fact made Metorik gain huge popularity among the WordPress community.
One of the key features of this plugin is the ability to schedule your emails. You can also create a set of rules for your emails. You may ask, what are these rules?
Imagine some of your audience hasn't had any activities on your website for a while. In this plugin, you can automate emails to send specifically to these users. Or for example, you can send a reminder email to your users about their subscription.
In Metorik, the most important feature is that you can categorize and send emails based on purchases, discount coupons, last purchase date, shared products and etc.
From the customization perspective, this plugin offers unique features. (Even though, Metorik isn't designed for WooCommerce) For example, you have many layers to send emails from.
You can manually add your customized CSS code to improve the design of your emails as well. You can also manually discount coupons for your users. You can also send a unique email to a specific group of users.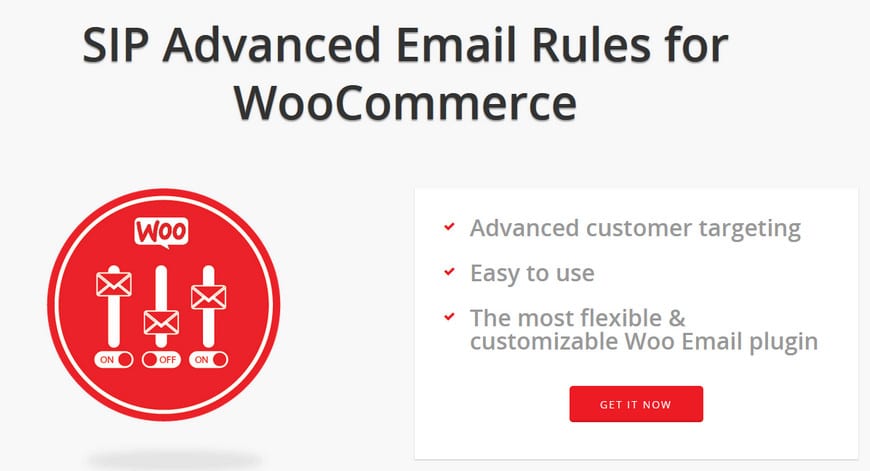 The next plugin in the list is SIP. This is a complete plugin to customize WooCommerce emails. With SIP you can categorize and send your WooCommerce emails based on price, geographical location, product name and etc.
You only need to configure it once and your emails will be sent automatically. In this plugin, there are a lot of shortcodes designed to customize your WooCommerce emails. These codes include customer name, discount coupons, links, product number and etc.
If you have used the default WooCommerce template, you have noticed that you cannot add any images to your emails. Woo Email Control email plugin is your solution.
This plugin enables you to attach images to your email. With this plugin, you can easily change your header's image. All the features in this plugin are completely free.
When you configured this plugin, to ensure its functionality you can send a test email to your email. Not only this plugin is compatible with the default templates, but you can also use your customized templates.
Follow Ups is another great WooCommerce email plugin. This plugin uses your customer's data to send follow up emails.
For example, when your customers finalize their purchase, they receive a thank you email or they receive regular emails by signing up on your newsletter.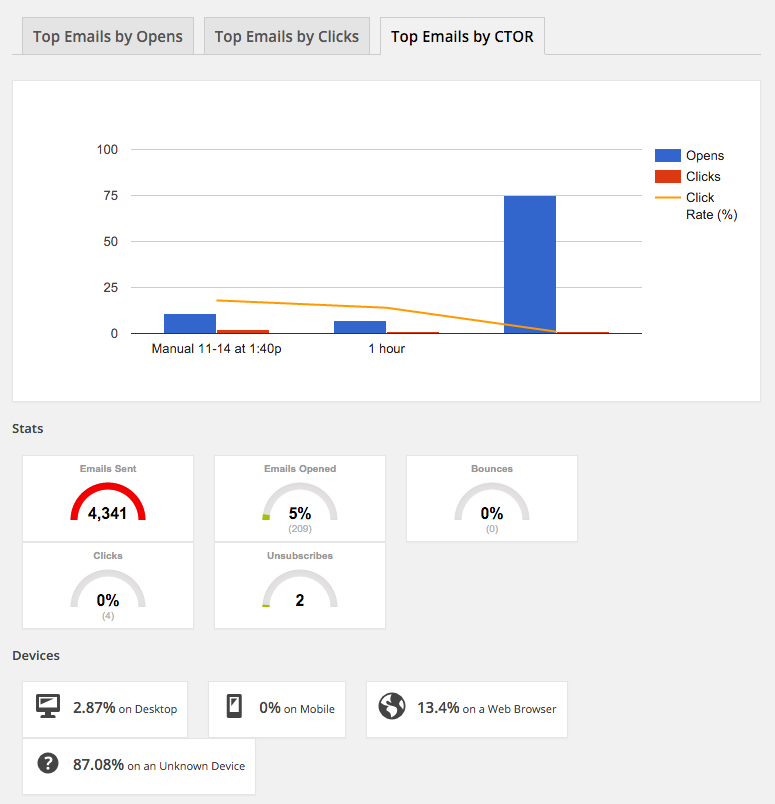 In fact, this plugin increases your chance of selling your products or services. Because this plugin is designed to attract customers. Follow Ups comes with multiple pre-designed templates compatible with different platforms.
Follow Ups also comes with a built-in analyzer which shows you a report of your conversion rate, opened emails, and much other useful information. Follow Ups is also compatible with Google Analytics.
If you are the owner of an online store, you need to be aware of your products. When you manage multiple businesses, keeping track of your products could get difficult. Therefore, using a plugin could be helpful to you.

Advanced Notifications is a perfect plugin for managing multiple online businesses. With this plugin, you can keep track of your products and receive notifications whenever a customer finalizes an order.
This plugin has the ability to add many recipients with a different name and email address. With this feature, you can send emails in regards to your inventory management, sent items and etc. to your customers.
With this plugin, you can configure your notifications to only show you crucial information.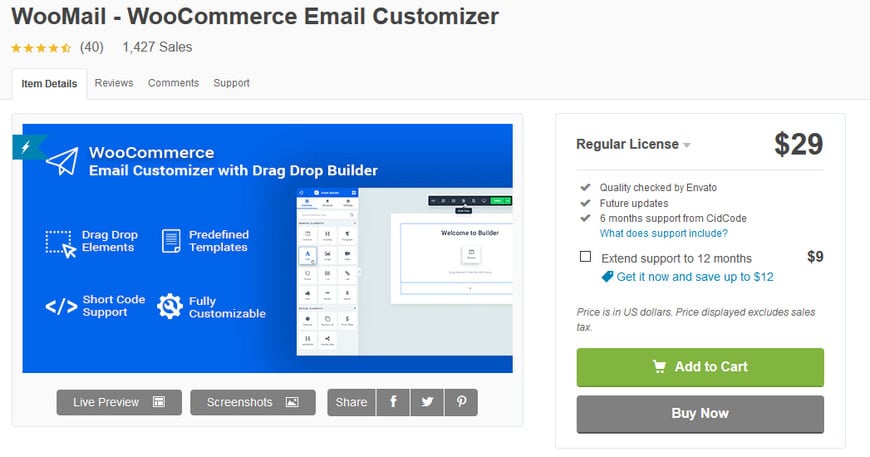 WooMail is the next plugin in our list. WooMail is a Drag Drop plugin where you can easily customize your emails. WooMail comes with 10 pre-designed templates.
This plugin enables you to customize WooCommerce email in the best possible way. Preview it, test it, and then go live.
Product suggestions is another feature offered in WooMail. By enabling this feature, the plugin chooses related products for your emails. This tickles your website users to view your products once more.
As we mentioned above, this plugin comes with 10 pre-designed templates. Most of these templates are designed for WooCommerce. Therefore, you can select the right template for your website.
If you wish to add more features to the demo templates, you can do so and use them as your default template. Some key features of this plugin are:
The ability to customize demos
You can view your changes in an instant
10 pre-designed templates
The ability to test emails
Different Shortcodes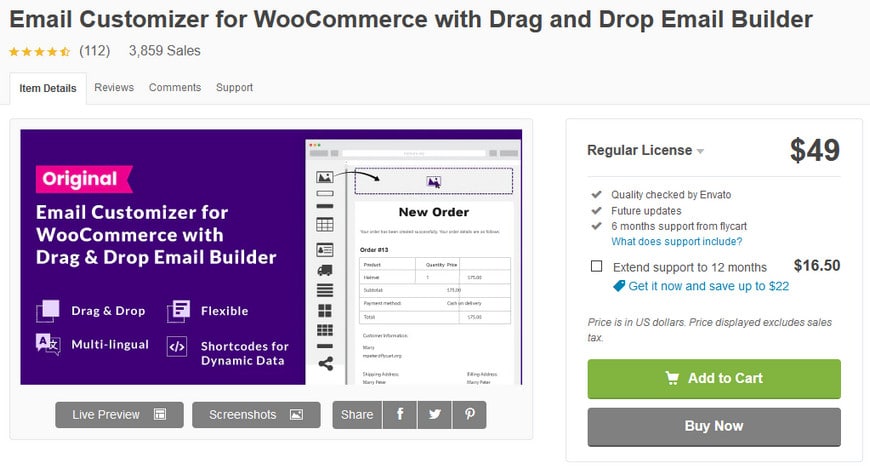 Flycart is another plugin you can use to customize WooCommerce email. Just like WooMail, this plugin has Drag and Drop ability. Meaning, you can use the Drag & Drop ability to customize your email's template.
In this plugin, you just need to create the initial email and begin customizing. You can add logos, paragraphs, social media platforms, footer, and even images to your emails.
All of these features help you to have a professional and appealing template. On the other hand, similar plugins only enable you to add footer and header. Other key features of Flycart are:
Customizing with Drag & Drop
Adding footer, header and customizing the structure
You can add a discount coupon
The ability to design and customize pre-designed templates
Visual Email Designer for WooCommerce by Smackcoders is another plugin on our list. This plugin allows you to customize your emails based on your website sales.
With this feature, you can customize your email templates based on your order status. This can be done for each of your products or for a specific category of your products.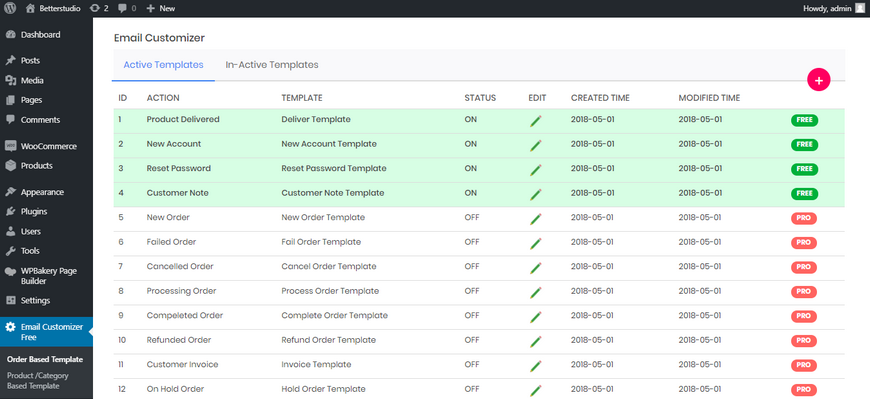 This plugin comes in both free and premium versions. As you probably know, in the premium version you get a lot more features.
You can also send emails based on the status of a shipped product. This allows your customers to be aware of their purchase at all times.
This is a complete plugin designed to cover every aspect and it comes with 3 main categories of templates:
Order templates
Product templates
Category templates
If you have many orders on your online store and you don't want to create a template for each one of them, you need to select your desired category and choose a template. Then, for all of your products in that category, create a template.

Email Customizer by WooCommerce is another plugin on our list. This plugin is developed by the WooCommerce team and it's compatible with WooCommerce.
Since this plugin is developed and designed by WooCommerce, it focuses on online store standards. Therefore, if you are looking for a plugin that works closely with WooCommerce and to be able to customize your emails, this plugin could be the right choice for you.
The developers of the plugin have tried to keep Email Customizer simple and user-friendly. Users still can make minimum changes to their emails. But this doesn't mean that this plugin has no features at all.
Email Customizer tries to simplify the whole process. If you are looking for a plugin with a lot of tools and features, then we recommend choosing other plugins mentioned in this article.
However, if you are looking for a user-friendly plugin with minimum features, then do not hesitate to download this plugin. Some of Email Customizer features are:
Design and customize without having any programming knowledge
The ability to customize every element in your email
Drag & Drop
Visual customization editor
In this list, perhaps Decorato is the simplest WooCommerce email customization plugin. You only need to create a template to start customizing.
You don't have the Drag & Drop feature in this plugin. However, if you are not looking to move elements in your template, then you are not going to miss this feature at all. In this plugin, you can change your header and footer styles.
You can change color, font, font size, and also make changes to a different section of your template. You can also add an image to your header.
To access this plugin, you need to open your WooCommerce settings. Click on the Email tab. Then select Open Decorator to open the plugin. After making your changes to the plugin, click on Publish to save your changes.
CxThemes is the most purchased plugin to customize WooCommerce emails.
This plugin offers a variety of features to customize your WooCommerce emails. You can add your social media links, choose colors, change your font and etc.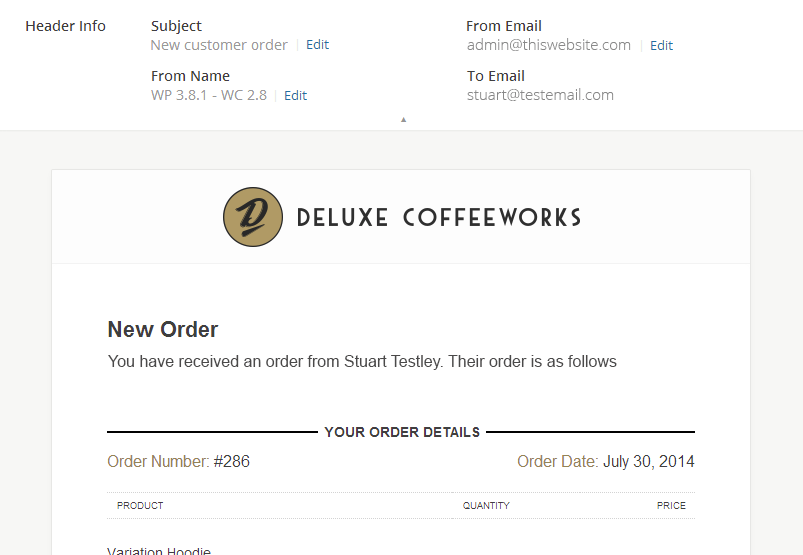 Your changes are also visible live. Meaning, you can see your changes immediately after making them. Other features of this amazing plugin are:
Customizing colors and other features
Customizing header and footer
Help links
The ability to add social media links
Customizing texts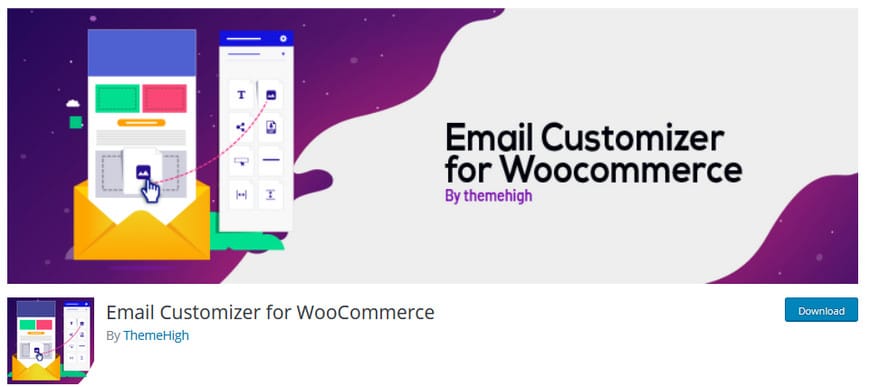 Themehigh is another plugin to customize the WooCommerce email. This plugin guides you to create a professional email in a short time.
You don't have a Drag & Drop feature in Themehigh. However, you have Choose and add editor. Using this plugin is very simple.
This plugin also offers a live feature. You can view your changes as soon as you make them. This plugin comes with more than 15 elements. This allows users to customize their templates.
If you are looking for a plugin that allows you to customize any email, this plugin is the perfect choice for you. Some other features of Themehigh are:
It has Choose and Add Editor
Live feature
More than 15 elements
You can create templates in no time at all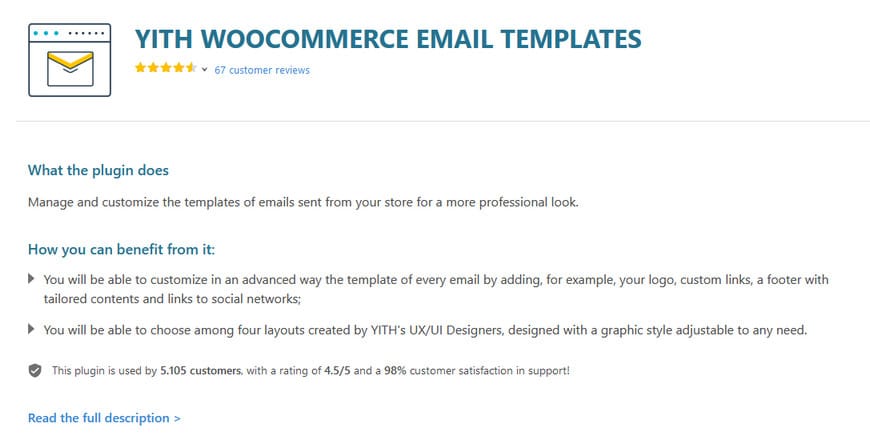 The next plugin we would like to introduce is YithEmail. You can easily customize the available templates to match your goal. This is one of the key features of this plugin.
The built-in editor that comes with this plugin allows you to edit pre-designed templates that come with YithEmail.
You can change social media links, header, footer, order column, the email structure, and font completely to match your needs.
There is no Live View feature in this plugin. However, there is a Preview feature, by clicking on it, you can preview your changes. Other key features of YithEmail are:
User-friendly editor
4 pre-designed layers
Templates that match WooCommerce standards
Test and Preview feature
Kardence is another useful plugin for customizing WooCommerce email. With this plugin, you can customize the default templates that come with the plugin. This plugin uses the WordPress editor to edit templates.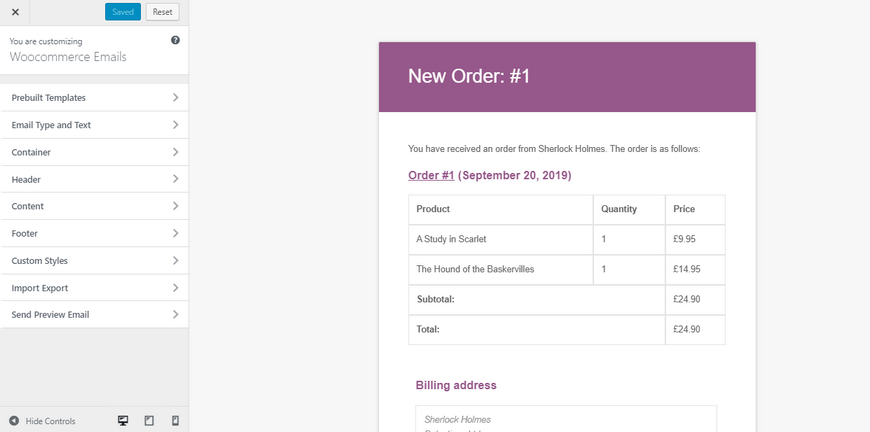 Kardence comes with the Live View feature. Also, you don't need to have any programming knowledge to use Kardence. In addition, Kardence is designed based on the Decorator plugin.
Therefore, don't be surprised if you see similar features in Kardence. However, this plugin has way more features than Decorator. Some other key features of Kardence are:
Easy Export and Import
The ability to Import configuration and pre-designed templates
Live View feature
The feature to customize fonts, colors, texts and etc.
StoreApps is another suggested plugin to customize the WooCommerce email. This plugin takes simple and boring WooCommerce emails and turns them into professional and fully customized emails.
With the help of this plugin, you can build a stronger brand. This plugin also offers a Call to Action feature.
As you probably know, you can use Call to Actions to increase your conversion rate. Luckily, you don't need any programming knowledge to use this plugin.
StoreApps is very user-friendly. Therefore, it doesn't matter if you are a beginner or an expert, this plugin is designed for everyone in the WordPress community. StoreApps also comes with useful tools to design your templates.
WooCommerce Email Templates
Having an appealing template for WooCommerce email is very crucial for big and small businesses. Therefore, we will introduce some of the best WooCommerce email templates. Our top priority is templates with the features below:
Easy editor with Drag and Drop
Templates compatible with any platforms
Compatible with any email service
Templates that don't need any HTML and programming knowledge
Being user-friendly
These templates are suitable for welcome emails. This kind of email mainly consists of a welcome message to recently registered users. Personal information such as usernames and passwords are mentioned in these emails.
This template can categorize your products and services. These templates are used to encourage customers to visit your websites again and complete their purchase process.
There are times when users add product to the cart but they don't complete their purchasing. Cart Abandonment Emails are sent to users to remind them about their unfinished purchase.
These emails mainly consist of product details such as its name and images. There is also a Call To Action button in a cart abandonment email which will send users directly to their cart.
It is a good idea to send a discount code to users in order to motivate them,
Nowadays, online shopping is becoming very popular among people that even groceries and drugs are purchased online. Users decide which product and site to buy based on the rating and reviews other users left for that specific product. As a matter of fact, rating and reviews directly impact users whether to buy a product or not.
Because of that, it is necessary for your business to ask your customers to leave comments for the products they have already bought. This email template is suitable for this goal by sending a survey to users.
Promotional emails and product introduction emails are an ideal way to introduce products to customers.
. The main goal of this template is to motivate your visitors to visit your website and potentially purchase an item or two.
High shipping cost is a very important issue for users which may make them leave the purchasing process unfinished. By sending these emails you can produce the products with the free shipping cost to your customers to encourage them buying these products.
Conclusion
Now that you are familiar with the top 15 plugins to customize WooCommerce email, it's time to select the right plugin to match your needs.
As you probably know, the plugins we have introduced above share the similar functionality, they're only different in the features they offer. Also, some plugins offer Live View feature which is an advantage.
Leave your comments about this post on BetterStudio blog.